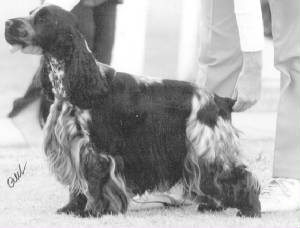 I actually had my first cocker spaniel in 1948. I became a Junior member of the Cocker Spaniel Soc. of N.S.W. And In 1950 we registered our kennel prefix "Royoni" .
We remained through the years loyal to the breed, of cocker spaniels. Having owned and imported no less than 15 cocker spaniels from the U.K. for the betterment of our breed, mainly from the Craigleith, Weirdene, and more recently Kendalwood and Lindridge Kennels. Tom(my husband) became the president of The Cocker Spaniel Soc. in 1975 and remained President until his resignation in 1990. During those years the family were very involved in the Club, and Lyn also became a member in the early '70s. We are all very proud to have been made "Life members" of the club. I personally, am very proud to have been made a "Life member" of the N.S.W. Women's dog club, and also Canberra Cocker Club. More recently I became a member of the Kennel Club in U.K. also a great honour.
After moving from the "Cross Roads" after 40 years, we moved "Lock, stock and all that it involved to Austral". Lyn, John and the family have built a home beside us, and so we hope "Royoni" will continue on for another few years still to come. Unfortunately Tom did not really see the kennels at their full advantage, as he passed away 2 years after moving to Austral.